The Palo Santo candle begins with fresh top notes of green moss, bergamot, and violet. Middle notes of incense and saffron build depth, while in the base, notes of arid, raw palo santo abound. Hints of sandalwood and patchouli gently ground this gorgeously complex scent.

Note Profile:
Top: Moss, Bergamot, Violet
Middle: Incense, Saffron
Base: Palo Santo, Patchouli, Sandalwood
Mason Jar Net Weight: 8oz
Burn Time: 50-60 Hours
Handpoured with LOVE in Raleigh, NC.
The Palo Santo candle begins with fresh top notes of green moss, bergamot, and violet. Middle notes of incense and saffron build depth, while in the base, notes of arid, raw palo santo abound. Hints of sandalwood and patchouli gently ground this gorgeously complex scent.

Note Profile:
Top: Moss, Bergamot, Violet
Middle: Incense, Saffron
Base: Palo Santo, Patchouli, Sandalwood
Mason Jar Net Weight: 8oz
Burn Time: 50-60 Hours
Handpoured with LOVE in Raleigh, NC.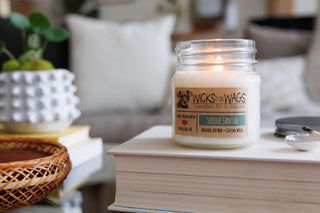 Wicks for Wags
Warm & Welcoming
Warming your homes and hearts.
"We have a house full of animals and only get soy candles. These all smell sooo good. They even included a cute handwritten thank you note! Great product and great customer service! We will definitely be buying more!"
– Lauren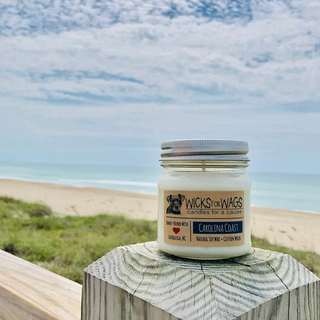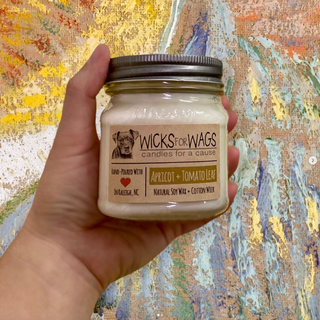 "These are AWESOME scents and knowing that rescues are helped makes it more special! THANK YOU!"
– Lee
"The scent is strong, they are absolutely beautiful, and smell amazing. Got the candles as a gift and my mom loves them."
– Morgan