The Fraser Fir candle is inspired by the Christmas tree itself, with mild citrus top notes, earthy undercurrents, and a woody balsam core. It's perfect candle for setting a festive mood or creating the right ambience for a quiet winter evening in.

Note Profile:
Top: Citrus
Middle: Fir, Balsam, Cedarwood
Base: Amber, Moss
Mason Jar Net Weight: 14oz
Burns 80-95 hours
Handpoured with LOVE in Raleigh, NC.
The Fraser Fir candle is inspired by the Christmas tree itself, with mild citrus top notes, earthy undercurrents, and a woody balsam core. It's perfect candle for setting a festive mood or creating the right ambience for a quiet winter evening in.

Note Profile:
Top: Citrus
Middle: Fir, Balsam, Cedarwood
Base: Amber, Moss
Mason Jar Net Weight: 14oz
Burns 80-95 hours
Handpoured with LOVE in Raleigh, NC.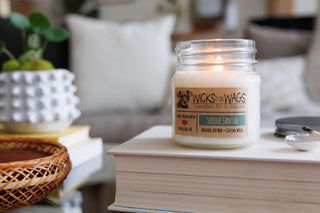 Wicks for Wags
Warm & Welcoming
Warming your homes and hearts.
"We have a house full of animals and only get soy candles. These all smell sooo good. They even included a cute handwritten thank you note! Great product and great customer service! We will definitely be buying more!"
– Lauren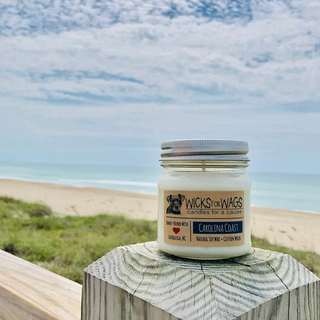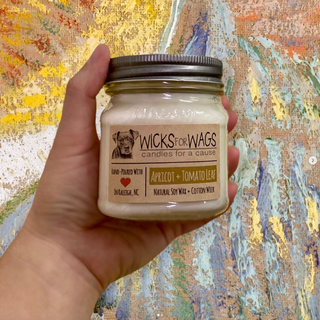 "These are AWESOME scents and knowing that rescues are helped makes it more special! THANK YOU!"
– Lee
"The scent is strong, they are absolutely beautiful, and smell amazing. Got the candles as a gift and my mom loves them."
– Morgan