The Gingerbread House candle combines gingerbread cookies and vanilla frosting into a deliciously fun holiday scent. This nostalgic fragrance is a treat for kids of all ages. Notes of ginger, cream, butter, and graham cracker come through right away, while the familiar aromas of vanilla, molasses, and spices reinforce the deliciousness of this fragrance.

Top: Orange Peel, Ginger
Middle: Cream, Butter, Graham Cracker, Sugar
Base: Cinnamon, Clove
Mason Jar Net Weight: 14oz
Burns 80-95 hours
Handpoured with LOVE in Raleigh, NC.
The Gingerbread House candle combines gingerbread cookies and vanilla frosting into a deliciously fun holiday scent. This nostalgic fragrance is a treat for kids of all ages. Notes of ginger, cream, butter, and graham cracker come through right away, while the familiar aromas of vanilla, molasses, and spices reinforce the deliciousness of this fragrance.

Top: Orange Peel, Ginger
Middle: Cream, Butter, Graham Cracker, Sugar
Base: Cinnamon, Clove
Mason Jar Net Weight: 14oz
Burns 80-95 hours
Handpoured with LOVE in Raleigh, NC.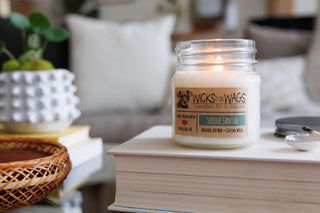 Wicks for Wags
Warm & Welcoming
Warming your homes and hearts.
"We have a house full of animals and only get soy candles. These all smell sooo good. They even included a cute handwritten thank you note! Great product and great customer service! We will definitely be buying more!"
– Lauren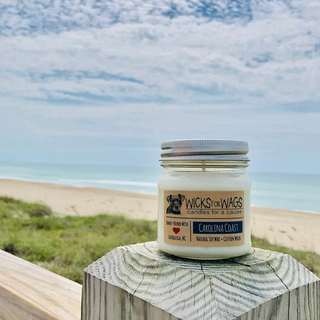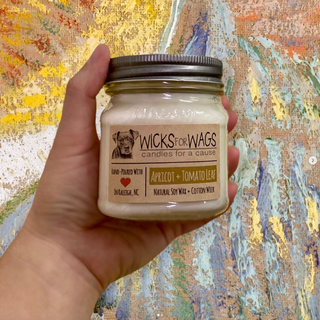 "These are AWESOME scents and knowing that rescues are helped makes it more special! THANK YOU!"
– Lee
"The scent is strong, they are absolutely beautiful, and smell amazing. Got the candles as a gift and my mom loves them."
– Morgan