The Shakedown Street candle has a popular and recognizable incense fragrance known throughout the world as Nag Champa. Nag Champa is an exotic blend of floral and spices including powder, amber, sandalwood, patchouli, lily of the valley and woody violet. "Don't tell me this town ain't got no heart when I can hear it beat out loud!" ~ The Grateful Dead

Note Profile:
Top: Powder
Middle: Lily of the Valley, Rose, Amber
Base: Patchouli, Violet, Sandalwood, Dark musk

Mason Jar Net Weight: 14oz
8oz Burn Time: 80-95 Hours 
Handpoured with LOVE in Raleigh, NC.
The Shakedown Street candle has a popular and recognizable incense fragrance known throughout the world as Nag Champa. Nag Champa is an exotic blend of floral and spices including powder, amber, sandalwood, patchouli, lily of the valley and woody violet. "Don't tell me this town ain't got no heart when I can hear it beat out loud!" ~ The Grateful Dead

Note Profile:
Top: Powder
Middle: Lily of the Valley, Rose, Amber
Base: Patchouli, Violet, Sandalwood, Dark musk

Mason Jar Net Weight: 14oz
8oz Burn Time: 80-95 Hours 
Handpoured with LOVE in Raleigh, NC.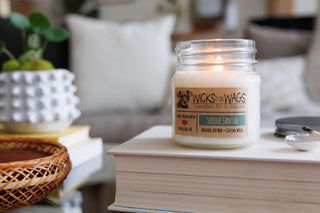 Wicks for Wags
Warm & Welcoming
Warming your homes and hearts.
"We have a house full of animals and only get soy candles. These all smell sooo good. They even included a cute handwritten thank you note! Great product and great customer service! We will definitely be buying more!"
– Lauren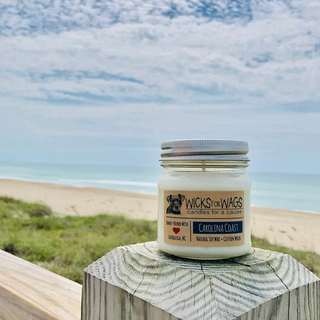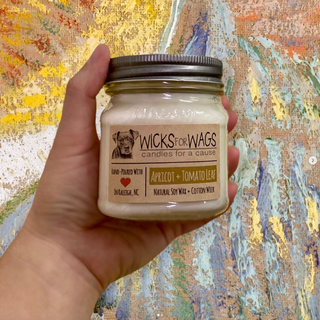 "These are AWESOME scents and knowing that rescues are helped makes it more special! THANK YOU!"
– Lee
"The scent is strong, they are absolutely beautiful, and smell amazing. Got the candles as a gift and my mom loves them."
– Morgan